I have been working to lighten my load for the last few years now.  I have realized that I enjoy my back county excursions so much more with a lighter pack.  Don't get me wrong, I still carry all kinds of photo gear!  In addition, I have been trying out new recipes for my new backcountry cuisine course that I will be teaching next fall.  So with that in mind, and with the encouragement of my friends and wife, I am going to use this blog to record my discoveries, both good and bad.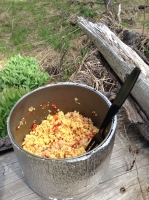 On my hike up to Hell's Half Acre yesterday, I tried out both a new recipe and a new cooking system.  My new best friend is Chef Glen Mcallister and his book "Recipes for Adventure".  Glen has really done his homework and created a great resource for anyone with a dehydrator.  
Check out his website
.  He has a lot of his recipes for free online, not to mention the stove design that I am currently trying out.  But I strongly encourage you to get the book.  It is by far the best cookbook I have ever owned.  Not the fastest meals to prepare before the trip(though he does have some quick meal ideas), but the best tasting and lightest weight options.  Scrambled eggs was something I thought I would never have in the back country!  I have eaten the freeze dried eggs and found them unpleasant.  But these eggs are great!  The basic concept is to cook the eggs in the oven with polenta until the eggs are set.  Then dehydrate them and add other veggies and proteins to make a complete meal.  I added chicken flavored TVP from
Harmony House Foods
and dried tomatoes.  It was a fantastic way to have a break from taking photos of the wildflowers.  It had fantastic flavor and texture and it was super easy to rehydrate.  Add the water, and let it sit for 5-10 minutes while you set up the stove.  Heat to a boil and cook for a minute, move to a pot cozy.  Wait 10 minutes and you are ready to eat!  If you don't have a pot cozy, simmer for a few extra minutes on your stove stirring often.  Make sure you don't let it go too long or it will stick to the bottom of the pot!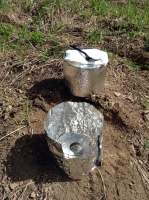 I am super excited about my new stove system!  Again from Chef Glenn, he outlines the lightest weight system possible.  My simplest system weighs 12 ounces with enough fuel for a two day trip!  That is stove, stove stand, pot, fuel, windscreen and pot cozy!  Here is the breakdown of the stove parts:
Tea light (0.02 oz), pot stand (0.87 oz), heat shield and homemade ultralight lid (0.56 oz), windscreen (0.7 oz), pot without lid (5.5 oz), pot cozy (1.23 oz), 2 oz of alcohol in a bottle and ziplock bag (2.83 oz).
The little tea light does not hold much alcohol, but it is enough to get a cup and a half of water to boil.  If you are making a larger meal, you just fill the cup up again and keep going.  It does not boil water as fast as a canister or petroleum fuel stove, but that is an advantage for rehydrating food.  You want the food to cook longer, but not scorch on the bottom.  When I was done with my meal, it was a snap to clean up!
Great day, great flowers, great food!  Enjoy your time out there!
Dustin