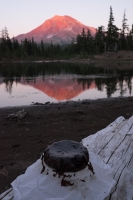 It was pretty incredible. We hiked 10 miles up into the three sisters wilderness, set up camp, swam in Husband lake, then made a great meal of
Tuna casserole.
Did it stop there? No way! Using my ultralight baking setup I cooked up a chocolate cake to have at sunset! Ultralight backpacking has never been better.  You heard me right, baking and ultralight in the same sentence!
I have been baking in the backcountry for over 20 years, but I stopped a few years ago because I went ultralight.  The extra 3 pounds were just not going to fly in the ultralight pack!  Now, Jon over at Flat Cat gear has created a system that works so well, and is so light, I can't imagine not baking on every trip. My baking kit weighs only 4.6 oz. for my 2-3 person baking setup, or only 2.9 oz for my solo kit.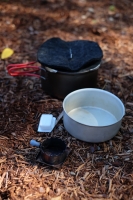 2-3 person kit:
3.6 oz Fat Daddio 5in x 2in pan with rim cut off
0.5 oz Flat Cat gear Epicurean Stove (esbit stove)
0.5 oz Felt hat for top of cook pot
You can get this whole kit from Jon for $50. For that price he trims the rim off the pan for you. It is a pain to do it, and he only charges $7.50 for it.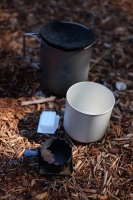 Solo kit:
2.2 oz Fat Daddio 3 in x 3 in pan with rim cut off
0.5 oz Flat Cat Gear Epicurean Stove (esbit stove)
0.2 oz Felt hat for top of pot
The solo kit is a little cheaper at around $40 from Jon at Flat Cat Gear.
For the simplest of "lava cakes" you can get packaged brownie mix or chocolate cake mix. The recipe below is a gluten free recipe that I came up with.
1/4 cup flour (Bob's Red Mill gluten free baking mix)
1/2 cup sugar
1/4 cup butter powder
5 Tbls cocoa powder
1/4 cup peanut butter powder
2 Tbls powdered egg
1/2 tsp salt
Add all ingredients into a bowl and mix well. Try to break up the clumps of the different powdered ingredients.  I put them through a mesh strainer and that works really well.  To fit the 5″x2″ pan use all of the powdered mix.  For the smaller pot only use 3/4 cup of powder.
In camp use just enough water to barely make it flow.  I put parchment paper at the bottom of the pot to make it much easier to remove.  The paper does not register on my 0.1 g accuracy stove, so that is pretty light and well worth it.  Just be sure to pack out the paper!
I hope you enjoy the baked goods in the backcountry!  Eat well!
Dustin