Meal:  Rice and Beef Enchiladas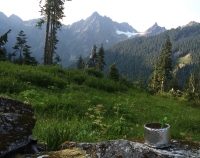 I came up with this recipe a few months back when I had some left over tortilla chips. It tastes surprisingly like enchiladas even though you don't bake it.  It is not a hard recipe to make and there are endless combinations. Here is the recipe I used (all measures are per person):
1/2 cup rice
1/4 cup dried mixed vegetables
1/4 cup beefish bits (from Harmony House Foods)
1/2 cup tortilla chips (broken is fine, but you want chip pieces, not the powder at the bottom of the bag) Package these separately.
1 – 1.5 cups water
Add water and all ingredients except chips to your pot and heat to a boil.  Turn off stove and add the tortillas and mix.  Put the pot in the cozy and let sit for another 10 minutes.  Enjoy!  The more water you add the more saucy it will be. 1 cup water will make it pretty thick.  I prefer it more saucy myself.
Variations:  Use dried or foil pouch chicken in place of the beefish bits. Use dried beans instead of the vegetables.  Doritos add even more flavor then regular corn chips. Use less rice and more beefish bits.  Want a Kick?  Put in a teaspoon of dried jalapeños.
Eat well!
Dustin