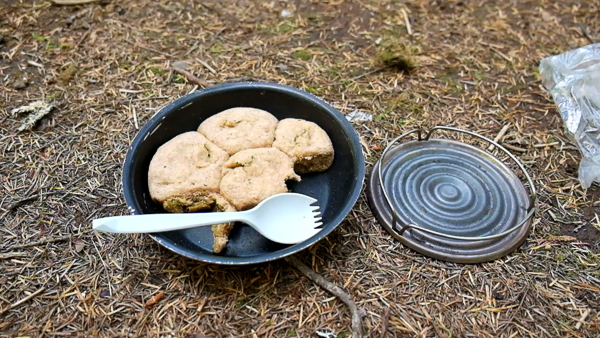 Meal of the Week:  Pesto Knots
Basic Yeast Dough
1/2 package active dry yeast
1/2 cup warm water
1/4 tsp salt
1/2 tsp sugar
1 tsp olive oil
1 1/2 cups flour
Gear Corner
Outback Oven by Backpackers Pantry
.   While it certainly does not fit in to the Ultralight system(9.5oz in addition to the rest of your pot and stove kit), it is very light weight and works very well.  I am currently working on a lighter version of the Outback Oven
Backing with three tea light candles, just did not work.  It got hot enough to create a great environment to rise the dough, but not hot enough to bake.  I switched over to a tea light alcohol stove with only 1/4 oz of alcohol.  I burned that off, then let the whole set up sit for 5 minutes to keep baking.  Then I pulled everything apart and put another 1/4 oz of fuel in the stove and cooked again.  In the end it did work, but the stove still got too hot and started burning the "oven" a bit.  I have some modifications in mind to try and make this system work, so I will report back in a few weeks and let you know what progress I made.
Tip of the Week
Often you want small ziplock bags for yeast or sugar or spices.  To make small ziplock bags at home, take a snack size ziplock and cut it in half.  I use packing tape to seal up the cut end and now I have a small ziplock!
Enjoy your time out on the trail!
Dustin